Retrouvez ici tous les jeux jouable et compatibles avec le Playstation Move
Qu'est que le Playstation Move ?
Le Playstation Move est une manette de jeu proposée en alternative par Sony, qui ressemble fortement à la Wiimote de Nintentdo mais en nettement plus précise. Les mouvement que vous effectuez avec votre Playstation Move en main son reproduit à l'écran.
Le tout est constitué d'une webcam : Playstation Eye et d'une manette à détection de mouvement comprenant un capteur gyroscopique.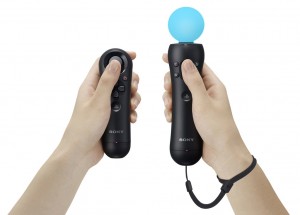 Liste des jeux PS3 compatibles avec le Playstation Move
Pour aidez à compléter votre collection de jeux compatibles avec le Playstation Move, voici la liste exhaustive des jeux compatibles avec ce périphérique PS3.
4 Elements HD
adidas miCoach
After Hours Athletes
Air Conflicts: Pacific Carriers
Air Conflicts: Secret Wars
Ape Escape
Apprends avec les PooYoos – Episode 1
Babel Rising
Beat Sketcher™
BioShock Infinite
Brunswick Pro Bowling
Buzz!: The Ultimate Music Quiz
Captain Morgane et la Tortue d'Or
Carnival Island
Child of Eden
DanceStar Party
DanceStar Party Hits
Dare To Fly
Datura
de Blob 2
Deadly Premonition: The Director's Cut
Disney·Pixar Rebelle
Doc Clock: The Toasted Sandwich of Time
Dogfight 1942
Dungeon Defenders
Dungeon Hunter: Alliance
DUST 514
EA SPORTS Tiger Woods PGA TOUR 14
EA SPORTS™ Grand Chelem Tennis 2
echochrome II
Everybody's Golf World Tour
Everybody's Golf
EyePet & Friends
EyePet Move Edition
FIFA 13
Flight Control HD
Funky Lab Rat
Germinator
Get Fit with Mel B
GoldenEye 007 : Reloaded
Grease
Greg Hastings Paintball 2
Harry Potter et les Reliques de la …
House of the Dead 4
Hustle Kings
Hydrophobia Prophecy
inFAMOUS: Festival of Blood
John Daly's ProStroke Golf
Just Dance 4
Killzone 3
Killzone Trilogy
Kite Fight
Kung Fu Rider
Le Seigneur des Anneaux : La Quête d'Aragorn
Learning with the PooYoos – Episode 2
Les Aventures de Tintin
Lights, Camera, Party!
LittleBigPlanet Karting
LittleBigPlanet 2
Londres 2012
Machinarium
Mad Dog McCree
Max and the Magic Marker – Gold Edition
Medieval Moves
Men In Black: Alien Crisis
Michael Jackson The Experience
MLB 13 The Show
Modern Combat: Domination
Move Fitness
Move Mind Benders
NBA 2K11
NBA 2K12
Need for Speed Most Wanted
NINJA GAIDEN 3
No More Heroes: Heroes' Paradise
Okami HD
Order Up!!
PDC World Championship Darts: Pro Tour
Phineas and Ferb
PixelJunk 4am
Planet Minigolf
PLAYSTATION MOVE HEROES
Pro Foosball
Puss in Boots
R.U.S.E.
Racket Sports
Resident Evil: Chronicles HD Collection
Resistance 3
Resistance: The Trilogy
Sackboy's Prehistoric Moves
Saints Row: The Third
SingStar Dance
Sly Collection
SOCOM: Special Forces
Sorcery
Sports Champions
Sports Champions 2
Start the Party!
Start the Party! Save the World
The Amazing Spider-Man
The Fight
The House of the Dead: OVERKILL
The Shoot
The Unfinished Swan
Tiger Woods PGA Tour 11
Tiger Woods PGA TOUR 12: The Masters
Tiger Woods PGA TOUR 13
Time Crisis: Razing Storm
Toki Tori
Tom Clancy's Ghost Recon Future Soldier
Top Darts
Top Spin 4
Toy Story 3 : Le Jeu Vidéo
Trilogie Angry Birds
Tron: Evolution
Tumble
TV Superstars
UFC Personal Trainer
Under Siege™
Unearthed: Trail of Ibn Battuta
Voodoo Chronicles: The First Sign
Wicked Monsters BLAST!
Wonderbook : Diggs, Détective privé
Wonderbook: Book of Spells : le Livre …
Yoostar 2 In the Movies
Zumba Fitness